Arrangements von Jazz- und SwingStandards für Bigband, Oktett und Combo
Relativ einfache, leicht zu spielende aber gut klingende Arrangements von Jazzstandards für Bigband, Oktett und Combo mit Partitur und Einzelstimmen habe ich geschrieben. Ausgehend von meiner Erfahrung als Bigband-Leiter verbinden diese Jazz-Arrangements musikalische Intensität mit maßvollem Schwierigkeitsgrad (medium easy). Sie sind gut geeignet für fortgeschrittene Amateur-Bigband in Standard-Besetzung.
Die Besetzung der Oktette ist für vier Blasinstrumente (tp, tb, as, ts), Klavier, Gitarre, Bass und Schlagzeug, wobei flexibel die Blechstimmen auch von Saxophonen übernommen werden können. Die einzelnen Blasstimmen können auch gut mehrfach besetzt werden, was vorteilhaft ist für Bigbands mit wechselnder Besetzung und unterschiedlicher Anwesenheit. Gitarre ist auch optional. Vorteilhaft ist auch die flexible Soloeinteilung: In allen Stimmen gibt's Akkordsymbole.
Bei vielen meiner Arrangements habe ich Aufwand getrieben, klassische Arrangements dieser Standards zu sichten, um geeignete und prägende Phrasen zu übernehmen.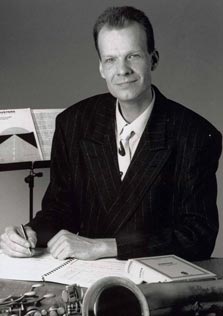 All Blues, Oktett
All of Me (vokal C-Dur)
Angel Eyes (vokal d-moll)
Autumn Leaves
Birdland, Oktett (G-Dur/moll)
Blues Busters
BluesExcursion
Blues in Green
Blues in Green, Oktett
Boplicity, Oktett
Boss City, Oktett
Butterfly, Oktett
Cantaloupe Island
Cantaloupe Island, Oktett
Caravan
Chameleon, Oktett
Chattanooga Choo Choo, Oktett
Cold Duck Time, Harris, Oktett
Dolphin Dance, Oktett
Footprints, Oktett
Four Brothers, Oktett
Girl from Ipanema (vokal F-Dur)
Goodbye Pork Pie Hat
Goodbye Pork Pie Hat, Oktett
In the Mood
In the Mood, Oktett
Island Breeze, Oktett
Janet's Dance, Oktett
Jody Grind
Jumpin' at the "Woodside", Oktett
Looking for a D-Flat
Love for Sale (vokal Bb-moll)
Mack the Knife, Bigband (vokal oder instrumental C-Dur)
Mack the Knife, Oktett (vokal oder instrumental C-Dur)
Maiden Voyage, Oktett
My Favorite Things (vokal e-moll)
New York New York, Oktett
New York New York, Quintett
Night and Day (vokal C-Dur)
Night and Day, Oktett (instrumental oder vokal C-Dur)
Night in Tunisia
Night in Tunisia, Oktett
One O'Clock Jump (F-Dur), Oktett
Out of Nowhere (vokal G-Dur)
Oye como va, Oktett (a-moll)
Pick up the Pieces, AWB, Oktett (f-moll)
Pink Panther Theme
Pink Panther Theme, Oktett
Quiet Nights of Quiet Stars, Oktett (instrumental oder vocal C-Dur)
Return of a Line, Oktett
Round Midnight, Oktett
Sing Sing Sing, Oktett
Sir Duke, Oktett
So What
So What, Oktett
Splanky, Oktett
Spain, Corea, Oktett
Stolen Moments
String of Pearls, Oktett
Such Sweet Thunder, Oktett
Summertime
Take the "A" Train
Take the "A" Train, Oktett
This Town Two, Oktett
Whisper not, Oktett (instrumental oder vokal d-moll)
Worksong, Oktett
Zomby Woof (Quintett)
pdf-Dateien:
Blues in Green (blues in Bb)
Janet's Dance (rhythm change in Bb)
Return of a Line (fusion in c-moll)
This Town Two (funkshuffle in F)

Oktette, sheetmusic, score, parts tp as ts tb p g b dr
Hier gibt's gutklingende, spannende aber relativ leicht spielbare Eigenkompositionen für Bläser und Rhythmusgruppe, die gerne angekuckt, ausgedruckt und gespielt werden können. Viel Spaß!
pdf-Datei 2,6MB "Blues in Green" in Bb
pdf-Datei 3,1MB "Janet's Dance" rhythm change in Bb
pdf-Datei 3,0MB "Return of a Line" fusion in c-moll
pdf-Datei 2,5MB "This Town Two" funkshuffle in F